I was walking through a Walmart in a different city and stopped real quick because I've never seen a
CQ
display before at my regular Walmart. "Ooh, new makeup brand!" They have nail polishes; eyeshadow singles, duos, trios & quads; duo ended eyeliners/eyeshadow sticks; lipsticks & other items. This brand is fairly inexpensive and their prices range from in between Wet n Wild and Revlon/L'Oreal brands. So that's a thumbs up!
Of course, I had to try the eyeshadows and I was looking for a taupe color just like the one named "Taupe". I picked that one up along with another single called "Champagne" and both were under $2. I went home and tried them and liked them so much that I went back the next day and picked up the "Mystic" trio which was under $4.
Clockwise from top left: Champagne, Taupe, Mystic trio

With Flash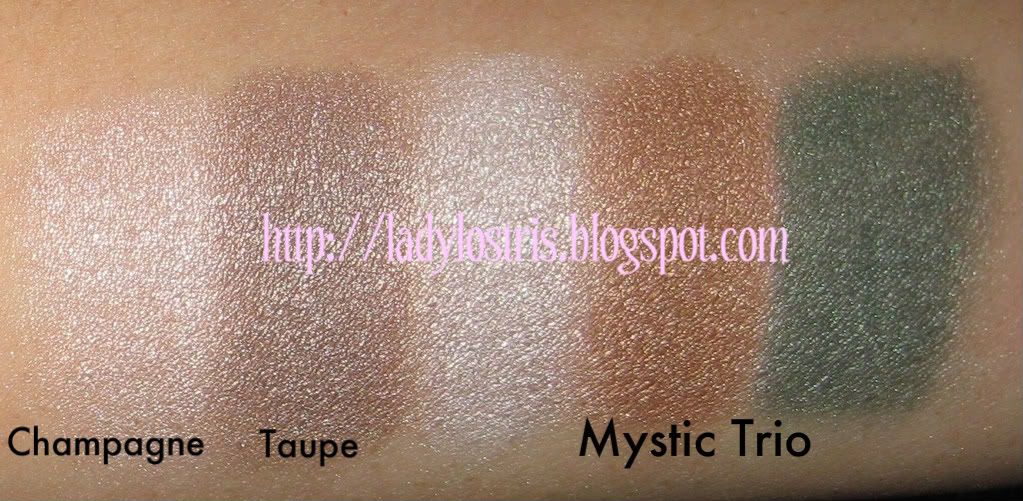 Without Flash

Note: I used a Physician's Formula Color Eyes Cream Shadow Stick in Champagne as a base.
Color Descriptions:
~Champagne: a creamy beige highlight
~Taupe: it is what it is...taupe; a greyish brown
~Mystic trio: white highlight/base color; a bronze with golden-orange undertones; a forest/ivy green
What I like about these eyeshadows
~They're inexpensive
~Well-pigmented
~Shimmery without being frosty
~Good color selection
~Available in singles, duos, trios and quads
~They apply easily and blend well
What I don't like about these eyeshadows
~The packaging is an awkward shape; not good for stacking
~They're a little powdery but less powdery than e.l.f. quads, if you're familiar with those
~Hard to find (all the quads at the store were gone as well as most of the trios)
I have a quick
note
about the Mystic trio. There were two left at the store and the white and green colors were the same in both, however, in one the middle color was a bronze color while the other one was an orangey color that was similar to Milani Flare or MAC Coppering. I opted for the one with the bronze color because I already have Milani Flare and thought this would be more wearable. I don't know why they were different.
I've heard some people have seen CQ at Walgreen's. I have no idea what CQ stands for but they have a website currently under construction.
www.cqcosmetics.com
My grade for CQ eyeshadows:
4 out of 5 stars