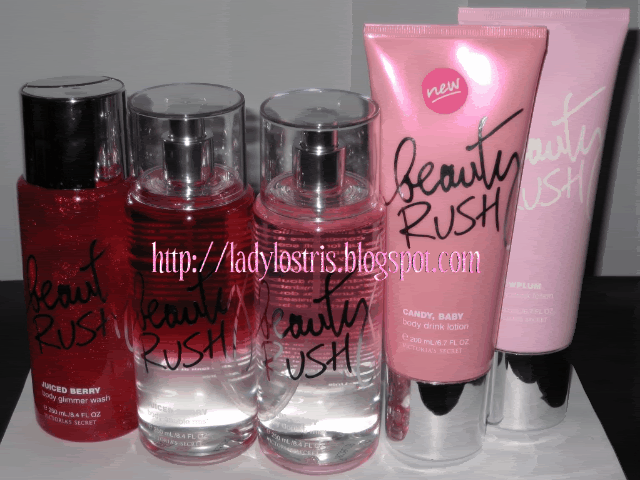 I haven't bought any lotions or sprays at
Victoria's S
ecret
since I got sick of
Love Spell
one day after this Secret Garden scent used to be my all time favorite. I don't know, one day I spritzed it on and didn't care for it anymore. Weird.
But now I love their
Beauty Rush
bath & body products! They come is
six different scents at $12 each or 3 for $25
. The scents include
Candy, Baby
;
Juiced Berry
,
Appletini, A Slice of Heaven
,
Coconut Craze
and
Strawberry Fizz
. I think there are also 3 new holiday scents (which you can find at the stores only):
Snowplum
,
Winterberry
and
Spiced Apple
. I also remember
Grapesicle
but that might be discontinued. (I'm a vanilla-scented lover but A Slice of Heaven is not smelling so great to me.)
The
Body Glimmer Wash
(8.4 fl. oz) looks all
pretty and sparkly but don't worry, it doesn't leave any shimmer on your skin but only softness
. The scent doesn't really last that long even though the fragrance is high up on the ingredients list, but if used in conjunction with the Body Double Mist and
Body Drink Lotion
(6.7 fl. oz.) then it's all good!

The
Body Double Mist
(8.4 fl. oz.) is a
bi-layer liquid
just like a dual layer eye makeup remover such as Clinique Take the Day Off. This is the product that got me interesting in buying VS items again. In fact, they both share the same ingredient of
cyclopentasiloxane,
but enough of that organic chemistry.
So do you want to know if it feels oily? Not so!
And even though this contains denatured alcohol like most body sprays, this product
does not give you that initial scent of alcohol where you have to wait for it to evaporate away until you smell the real scent
. That's what I love about it! And it
actually feels a little hydrating.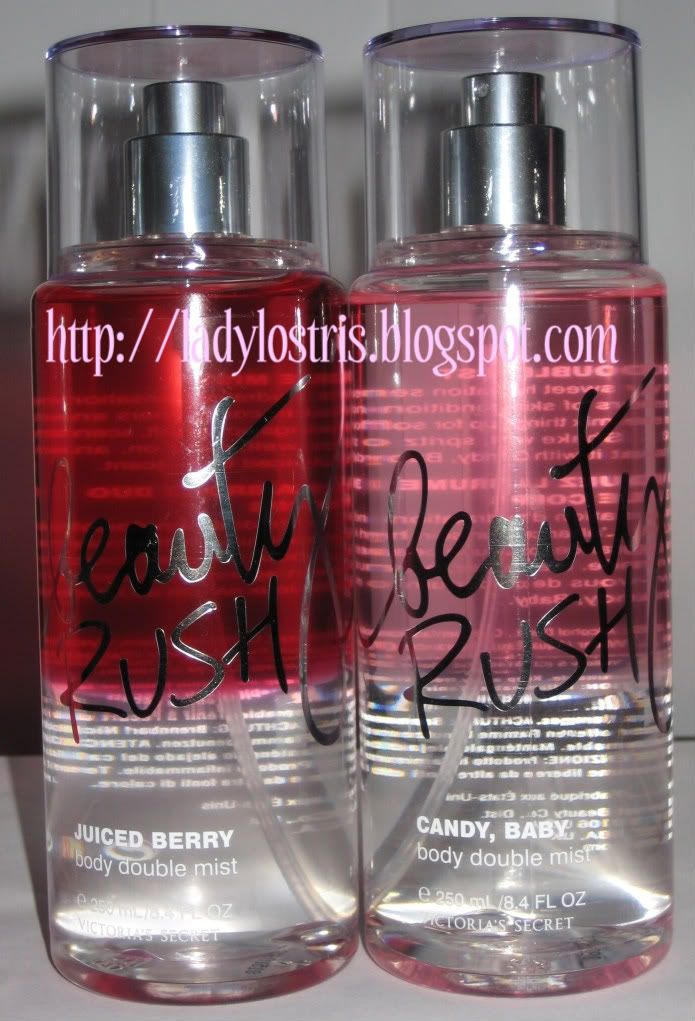 Make sure you
shake it very well before spritzing
it on or you'll waste the bottom clear layer and the upper colored layer will be left lonely. =(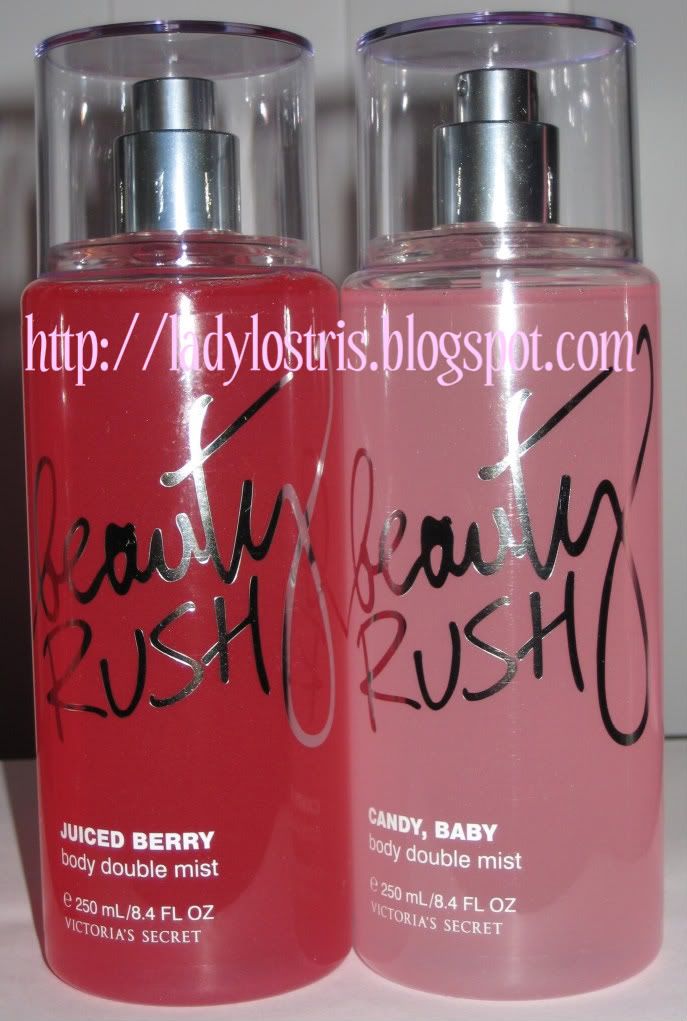 When it starts to separate back into it's layers, the line where the two liquids meet will get bubbly and foamy but the bubbles burst away quickly.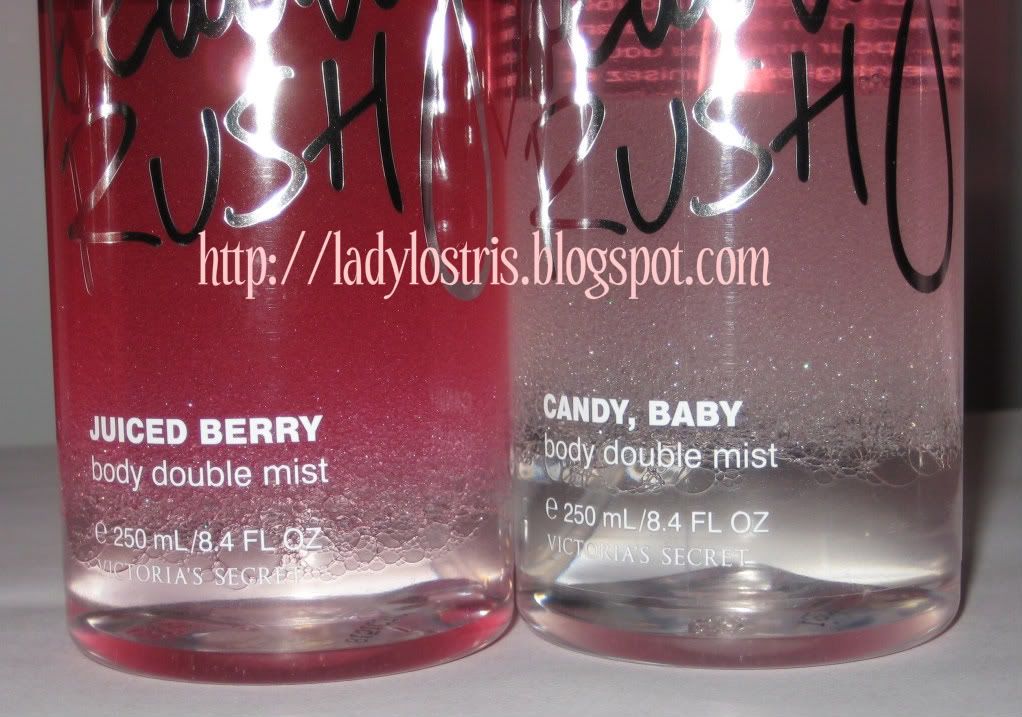 Now this is the scent that I most love: Snowplum!
For some dang reason, two VS stores I went to only had 1 of the lotions left
and no Body Double Mists or any other product while there were rows and rows of everything for Winterberry and Spiced Apple. Boo!!! So I had to buy the
mini sized
(2.5 fl. oz.) one for
$8
. Rip off! But I had to have this scent. See how the holiday scents have the creamy, opaque layer on the top?
Also available are the
Body Glimmer Swirl Cream
and the
Body Souffle Moisture Cream
in selected scents.