I picked up two pairs of earrings above at
Icing
last week on a
BOGOHO
,
buy one get one half off
. On the left for $7.50 has pink, brown and ecru colored string that's wrapped around and around in an intricate pattern. It happened to match the shirt that I was wearing perfectly! On the right are some dangly curves with crystals for $8.50. Grand total was $12.25 plus tax.
On the weekend I stopped by
Claire's
and bought two necklaces. (Actually, it was courtesy of the ex-boyfriend. lol)
On the left a 48" gunmetal colored necklace with round beads for $10.50 and on the right a 30" necklace with metal circles and black faceted plastic beads for $9.50.
I double-upped the one on the left.
And because
I spent $20 or more before tax
at
Claire's
, they gave me a
$10 off coupon
on my next purchase of $20 or more before tax. It's valid
between December 1st and the 14th
and I'm definitely going to use this!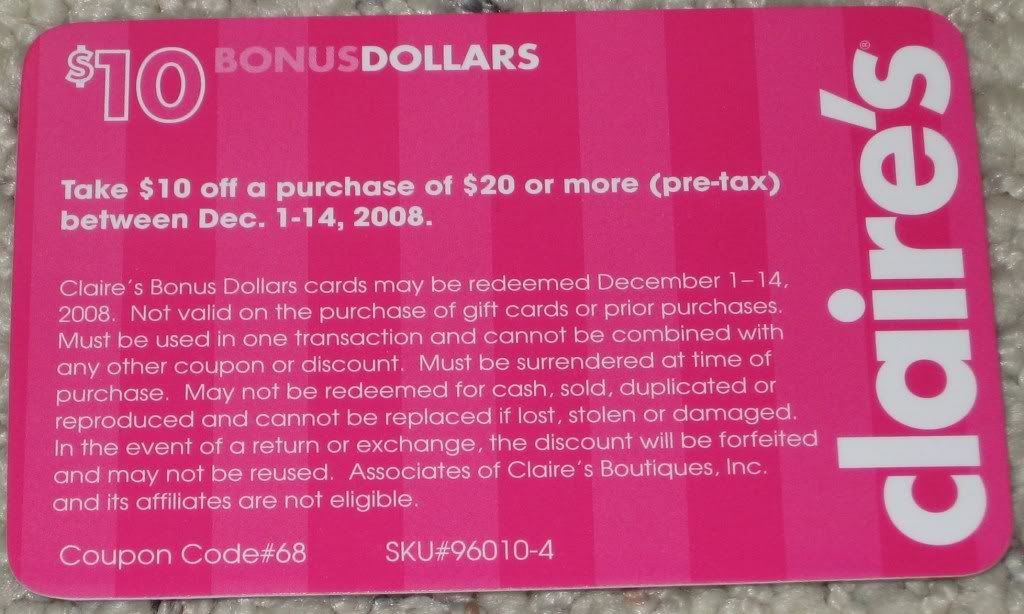 So where do I store the earrings and necklaces that I use most often?
Well,
don't ever buy a Polaroid FLM-911 LCD TV because it SUCKS!
I bought this two years ago for about
$330
and at that time LCDs were around $500 or more so I opted for the cheaper one. It had a beautiful picture though but
less than a year and a half later the screen went white
and the picture never came on anymore but the audio still worked. The warranty was 1 year only and I never buy extended warranties because I've never had problems with any electronic items before. I researched this TV online and a lot of other people had problems with it. The cost to fix it is more than what it's worth so I have to save up for another LCD TV.
Just
don't ever buy Polaroids
, guys! But it makes
a wonderful
earring rack
. LoL! I just tied up some thread around it and voila. Do you see the back part of my little 9" CRT TV on the left that I'm forced to use? =( Even my laptop screen is bigger than that. I guess if I haven't hauled so much makeup this year, I could have already bought a new TV. Ah well...Hehe
All my other jewelry are piled in a little case. You may have spied it in one of my videos. It has a multicolored block pattern on it. I use it as a camera stand when making YT vids.