Were you wondering what came with the
65 Piece Blockbuster Set
because the website is so unhelpful? Here's the
29 small eyeshadows
that I
depotted
into a
CD palette
and since they were so lightweight and would not stick to magnets, I used
double-sided Scotch tape
to adhere them. Then I used the
names
that were already
printed on the plastic
and taped them to the front of the CD case. Voila... (They're all shimmers except Wisteria Lane is matte while Naked and Sage are more of a semi-matte finish)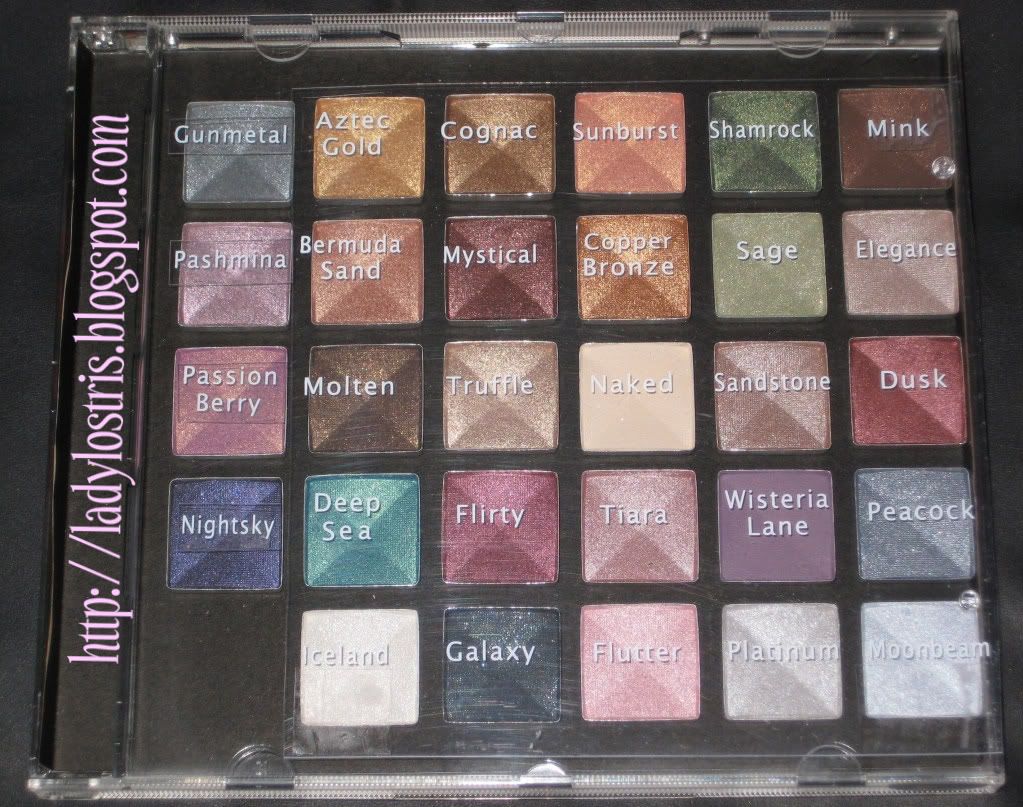 Swatches of the
first 3 rows
Swatches of the
last 2 rows
. I have a few of the
full size eyeshadows
that come in the set and they are of
different quality
. The
full size shadows are more pigmented and creamy while the eyeshadows in the set are pretty well pigmented but more powdery in texture
. The full size shadows are way better so opt for those. But I think this was still worth it because it's good to play with.
I only really wanted the case and eyeshadows. I needed a little extra storage for things I don't really use. But don't think this is some great quality sturdy case. The bottom of the first two levels are kind of like
flimsy cardboard
that's coated with a soft material. It will still hold things up pretty well though. The bottom is a hard cardboard and the outside is
vinyl
that has some foam padding behind it. I like how the bottom part slides open when you flip up the top cover. (
Note
: Contents shown
DID NOT
come with the set. Only the 3 lipsticks and 2 shimmer powders at the bottom did.)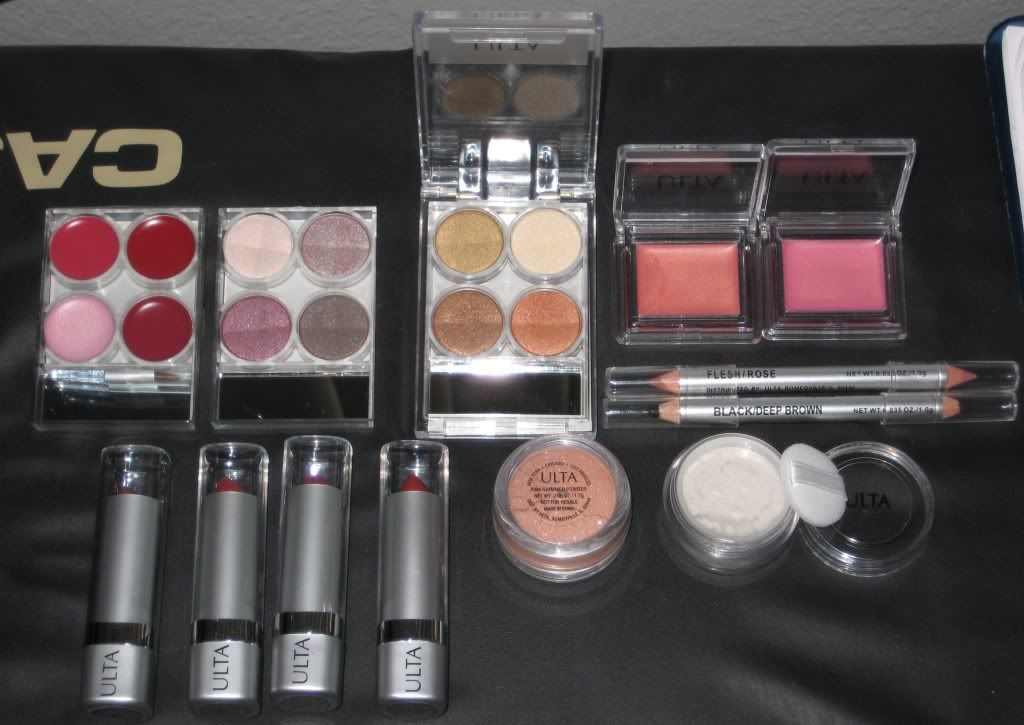 Two lipglosses
too. All the lipglosses are sheer. I never opened the plastic on the lip quad but I'm pretty sure they're sheer too.
Look how unbelievably super cute the tiny powder puff is! There is also a pink shimmer powder and I haven't broken the seals on these yet.
Lip and 2 eyeshadow quads. The eyeshadows have a faint odor of pen ink if you sniff them closely but it's not noticeable when wearing them.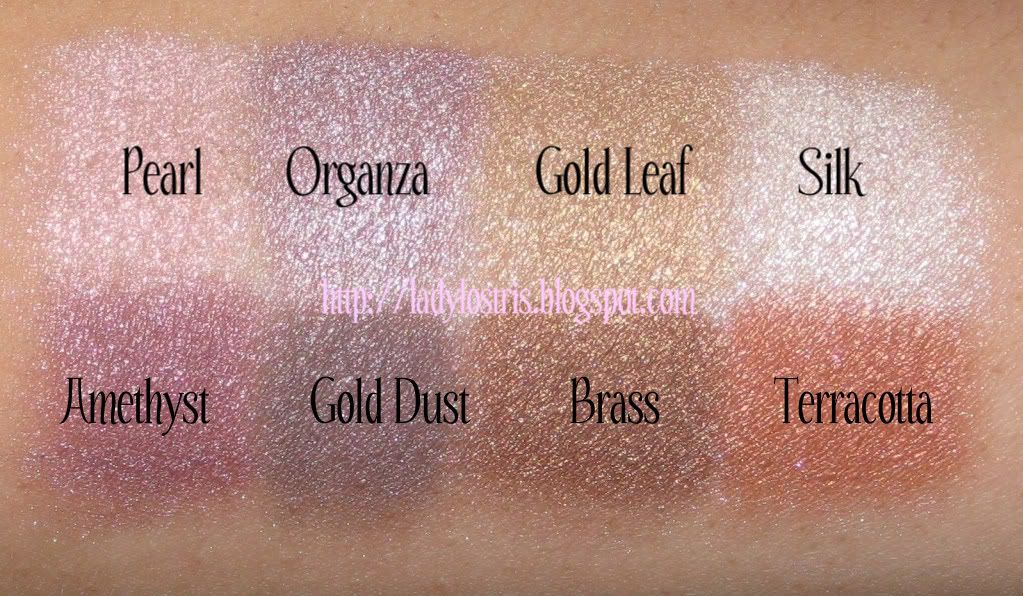 The
5 blushes
and
1 transluscent powder
that I never touched or swatched. I don't think I'll use them since they're talc-based. Also comes with
12 other lipglosses
that I haven't touched either but they look pretty. There was also a
green
and
flesh-toned cream concealer
that I threw out because they were "sweating" and they contained mineral oil anyway.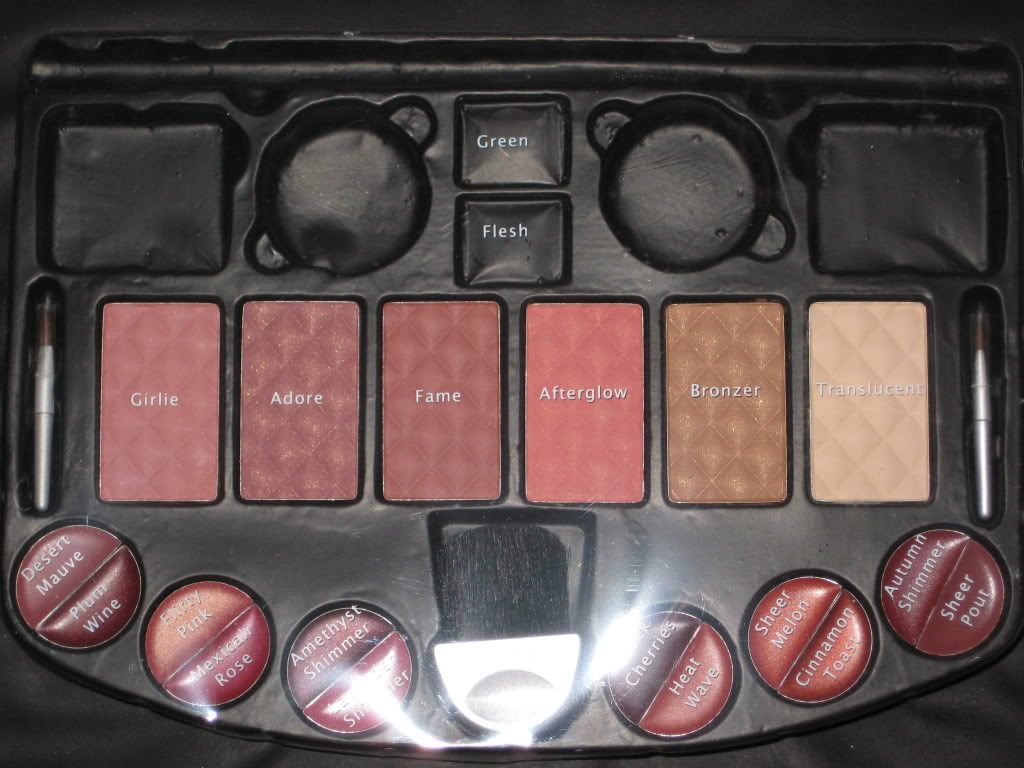 The four lippies aren't very special. They're not super moist or anything and the packaging is cheap plastic. The only one I can pull off is Nude Spice (not Nude Shimmer) and maybe Sienna Shimmer. I look like a clown with the other two colors. I'll have to use those over NYX Rea.
And the last pics
This set was
$24.99
but there was a $5 off coupon code when I ordered it. Now they have a
20% off coupon code
(
97153
) which comes out to the same total of around
$20
. Currently they are offering free shipping for orders $25 or more.
So is it worth it
? Well, I'm
not regretting my purchase
.
I like the eyeshadows
although they are not the best quality they're still pigmented but a little powdery (I love their full size ones). And I like the pencil duos and the two square lipglosses. I didn't really buy it for the rest of the stuff except for the case which is coming in handy. I think it would be good as a gift for someone who's starting out or for someone who's a makeup junkie. Christmas is around the corner....Dang, already?