This is a follow-up to a
previous post
. My
Instant Pretty Limited Edition
holiday set (
$36
) came today and I was
"Instant Happy"
. I love the
rouching
on the
10.5" x 4.5" bag
and the pretty packaging of the palette and lipstick, which I wasn't expecting because the picture on the website didn't display that well. It comes with a
.5 oz/15ml All About Eyes
, a
.14 oz/4 g black High Impact mascara
, a .
08 oz/2.4 g Long Last Lipstick in Twilight Nude
(mini size; why not full-size like always?)
,
a
1.7 fl oz/50 ml Take the Day Off
makeup remover, and a
.12 oz/3.5g
6-color Colour Surge Eye Shadow Palette
all in a pretty box. They included a pink
breast cancer ribbon
pin also. Cool!
Can you see the palette? Is it camoflauged? Hehe
Here it is! The lipstick looks like chrome bamboo.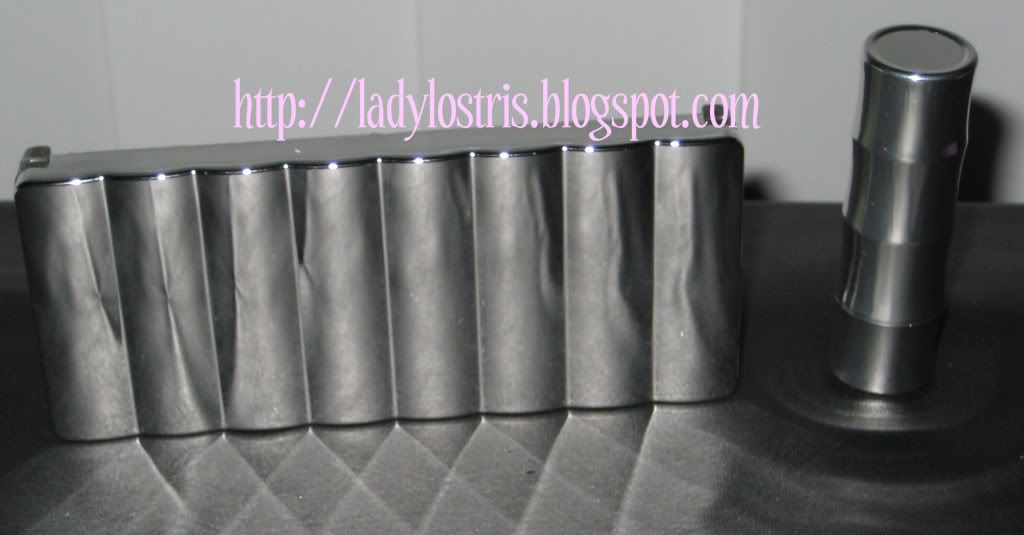 Clinique has nice wearable colors. Uh oh, fingerprints on the edge already.

Click image to enlarge. Shadow names are listed.

This is the
Professional Polish bonus
I received, which is only an
online special
(NOW SOLD OUT)....way better than my Macy's bonus. I'm a sucker for Clinique GWP's. I should bust out with all my other GWP makeup bags. Hmm...this is the only one left out of the 3 that were available. I think people really liked the Fresh Bloom blush in Peony in the other 2 bonuses.
Included in this one is a
2g Colour Surge Eyeshadow Duo in Butter Pecan
, a
.17 oz/5ml All About Eyes,
a
.06 oz/1.8 g Blushing Blush Powder Blush in Sunset Glow
(didn't swatch it; might give it away), a
mini blush brush
, a
.14 oz/4 g black High Impact Mascara
, a
.14 oz/4g Long Last Lipstick in Honey Nut
, and
eyelash curler
(haven't used it yet) and an
8.5" x 4" white and silver wristlet bag
.
Honey Nut
lippie and
Butter Pecan
e/s Duo (matte)
Click to enlarge image
The 3rd color in the palette definitely looks bronzey in the pan but when swatched it comes up plum toned. I thought I didn't wipe off my brush good enough from the first swatch so I used makeup remover and swatched it again. It came out the same way. Strange. Honey Nut is a nude tawny color and Twilight Nude has berry tones...
So I got my Clinique fix. I'm happy! Hope this helped =)
What are your favorite Clinique products?