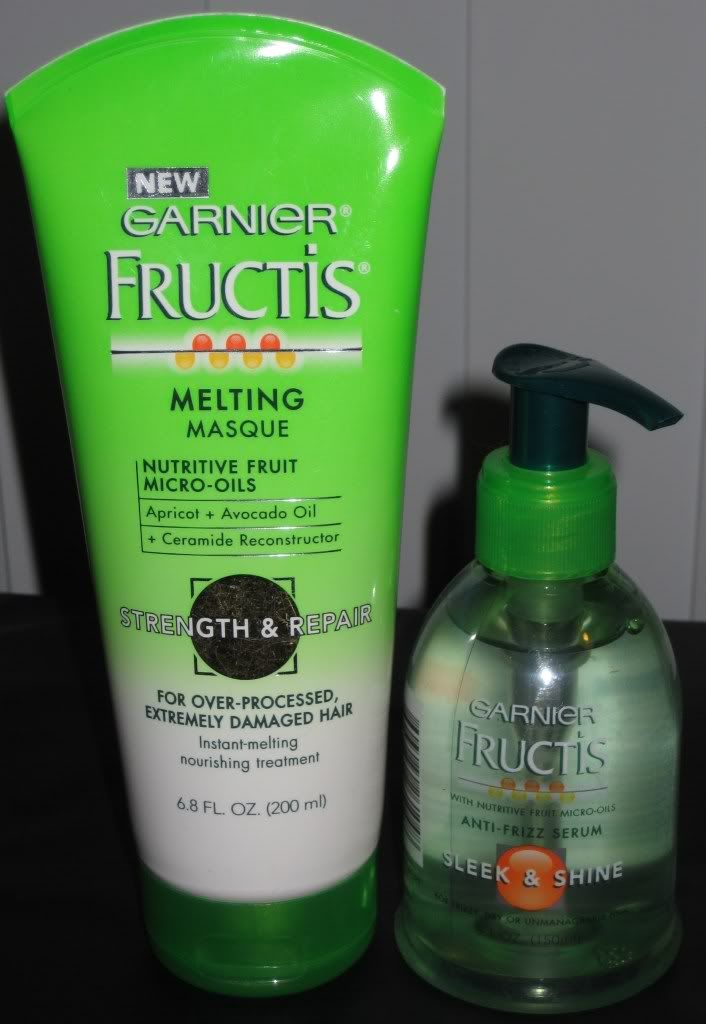 Recently I've been using the
Garnier Fructis Melting Masque
and
Instant Melting Conditioner
(not pictured) about every other day. They are both conditioners for your hair but the Melting Masque is for over processed, extremely damaged hair and is categorized under their
"Strength & Repair" line
while the Instant Melting Conditioner is for dry, frizzy hair and is categorized under their
"Sleek & Shine" line.
They are very affordable at only
$2.99
each but there's almost always a $1 off coupon in the Sunday paper on any Garnier Fructis hair product so it's a steal.
I've really been noticing a difference in my hair since using these conditioners.
It's less dry, smoother, silkier and shinier
. So far both of these have given me the same results. And every
Garnier Fructis
product smells so wonderful. They have
fruity
or
citrus
scents and the conditioners smell like papaya, at least to me. When I rinse it off in the shower, it feels like it's actually melted on a layer of silk goodness onto my hair. LoL.
As for
shampoo
, I use any
Dove
shampoo for dry hair that I find at Costco in those huge pump bottles. I really like Dove and prefer it over Pantene, which dries out my hair and makes it feel like straw. I haven't tried any GF shampoo yet.
Also pictured above is my favorite frizz serum which goes for about
$4.50
. It's called the
Anti-Frizz Serum
and is part of their
"Sleek & Shine"
line. It has a
citrus scent
and is a
light oil which is not greasy and thick like Baby Oil
. It
does not contain alcohol
so it won't dry out your hair and it also
does not contain water
. Some frizz serums have water in them and when you apply it to your hair after flat ironing, it will wave it up. It's because of the water in it. The GF frizz serum contains no water so it won't mess up your freshly straightened locks.
I like to smooth it on after using my Chi flat iron or my curling iron and it tames my frizzies, smooths the cuticles of my hair, adds a little bit of shine and a pleasant scent.
It's also a good refresher to finger comb through your hair throughout the day. I go through bottles of this stuff since I have long hair. I'm due for a cut! =)
Whoops, I forgot to add that I also like the
Anti-Humidity Hairspray
. I've given up on flexible hold hairsprays because they don't hold my curls or keep my flat ironed hair from frizzing. It has an ultra hold but it doesn't make my hair hard and crunchy.
Do you have any hair care recommendations?