It's Clinique Bonus Time at Macy's and they call this "
The Wow Factor" bonus
. Hmm,
not
that
wowie
though but I've been waiting for a nice bonus since I've ran out of my All About Eyes eye gel and I didn't like the last ones at other department stores so I had to pick this one up today. Here's a list of what it comes with and you receive it when you buy something for $21.50 or more.
1
.
Clarifying Lotion 2
- this is for
dry/combination skin types
. Since I'm an oily girl, this is not that suitable for me and it does contain
alcohol denat.
(denatured) which is the first ingredient. That's why I've never liked Clinique skin care. If you'd like to try a nice alcohol-free toner, try Neutrogena's.
2.
Dramatically Different Moisturizing Lotion
- Now this is the thing that I've
always hated and thrown away
with every bonus I've ever gotten. Again, this is for dry skin types (I wish they'd have an option to choose skin care items with bonuses). This stuff is so
greasy and oily
. The first 3 ingredients are water,
mineral oil
, and
sesame oil
(would you like to cook some pancit with this?). Definitely
NOT GOOD FOR OILY GALS
.
3.
Clinique Color Palette
that contains:
Colour Surge Eye Shadow Duo in

Rose Wine
(nice fall colors),
Soft Pressed Powder Blusher in

Pink Blush
(very sheer) and
True Bronze Pressed Powder in

Sunkissed
(better for fair and light skintones)
4.
High Impact Mascara
in
black
- I know I've used this before and I don't remember much of it. But I'll use it again and let you know what I think in the future.
5.
Different Lipstick
in
A Different Grape
- this is a
sheer
,
glossy
,
wine/berry/plum
colored lipstick that's nice for the fall. It's called different lipstick because of it's
smooth
and comfortable feel. It's pretty
moist
and
glides on smoothly
but I prefer lipsticks with at least medium coverage.
6.
Large Cosmetics Bag
- this thing is HUGE. It's
11.5" x 7" x 3"
. The exterior is made of
PVC
so it's easily wipeable as well as the
nylon-lined interior
which is lime green. The patterned stripe on the outside is made of satin and is the top edge of a
pocket
! I'm telling you again, it's huge!!
7.
Mini Bag
- you get to
choose
between a
round
bag, a mini
square
one or a
long, regtangular shaped bag that's triangular on it's profile
. I chose the latter. =) And it's made of satin type material.
.
I like how the palette doesn't come with those little sponge applicators or dinky little brushes that nobody uses anyway!

What I don't like is the
plain white packaging.
What happened when they used to use that fake green marbled plastic with their bonuses? Check out the pictures down further below. I like it
old school
.
NOTE
: The palette items seem to be
dry
and
chalky
which
IS NOT
like the other Clinique eyeshadows and blushes I've owned. So I'm disappointed with the low pigmentation. They're
usually creamy and velvety
. I guess these mass market things aren't up to their usual standards. (For a base under the eyeshadows I used a Physician's Formula Color Eyes Cream Shadow stick in Champagne)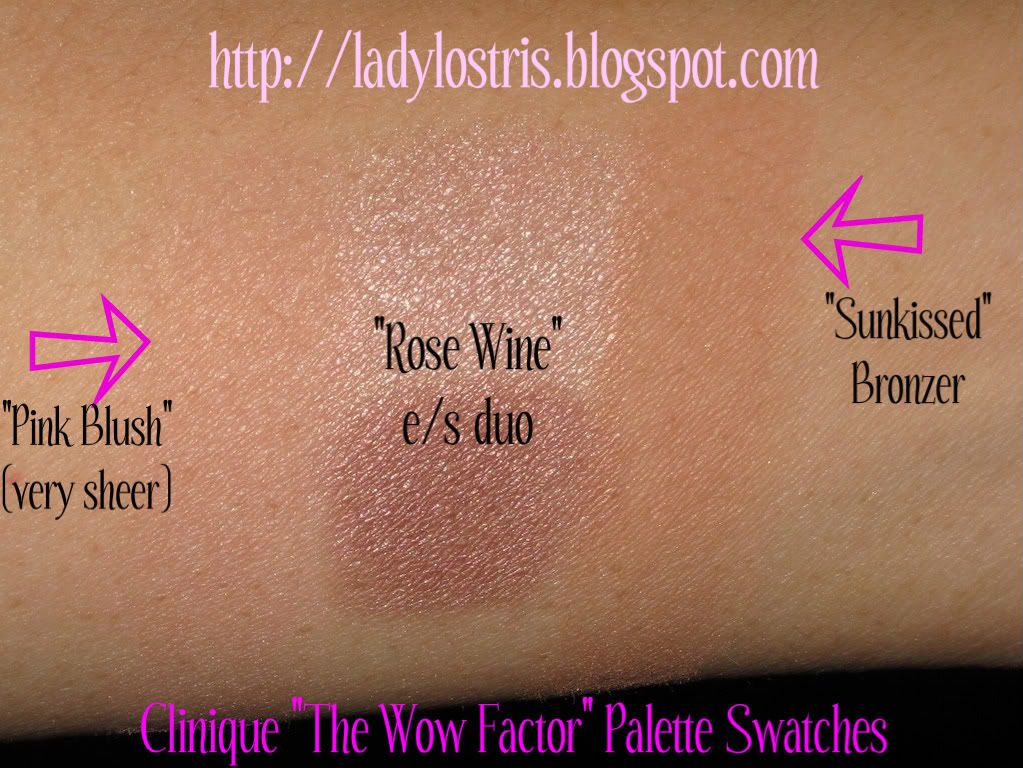 The pic below shows the
3 mini bags
which you can
choose
from.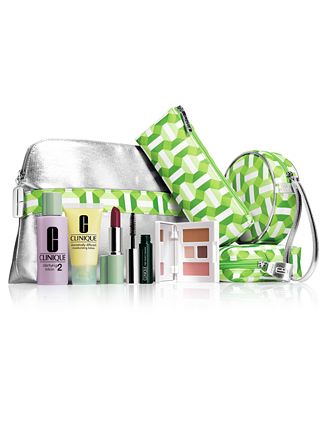 This bag is
huge
! I'm thinking of using it for skin care items when I travel. The blue thing you see there is a foot long ruler.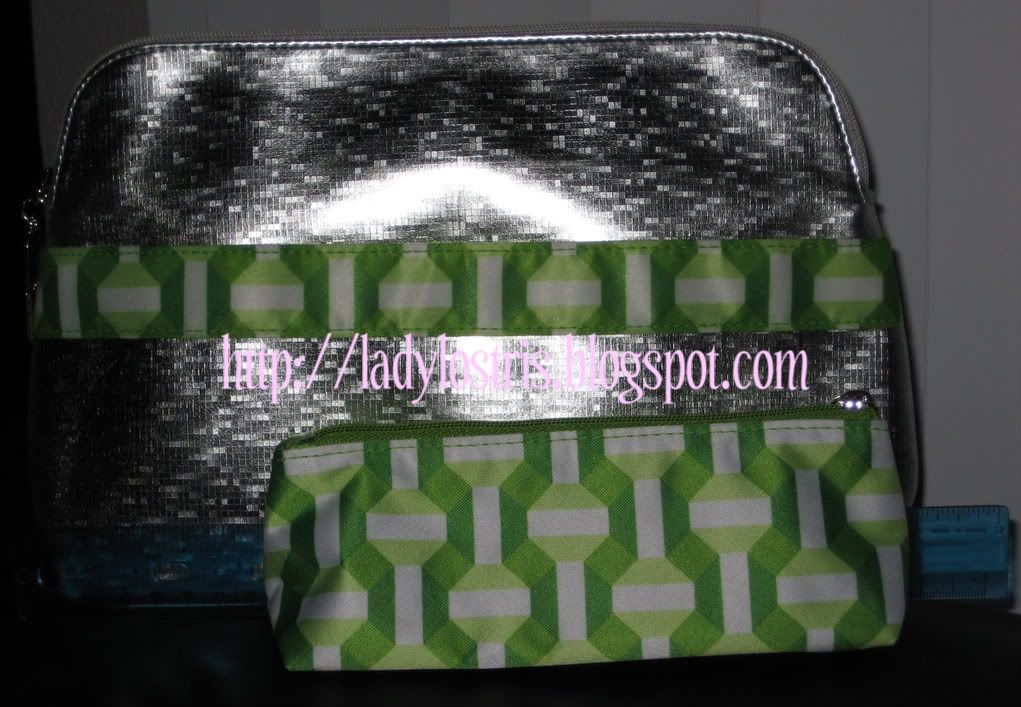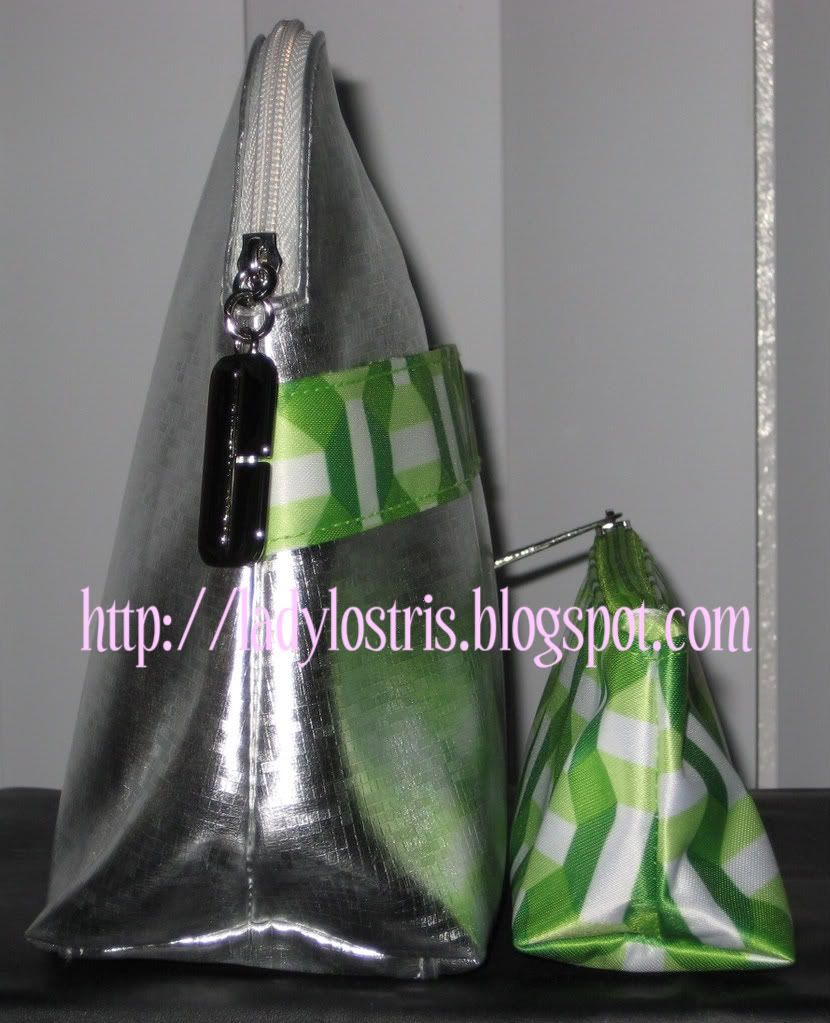 So what did I buy to get the bonus? I got the
0.5 oz All About Eyes gel ($27.50)
which is better for
oily skin
types while their rich formula is better for drier skin types. This is my favorite
favorite
eye gel of all time because it
absorbs
into your skin
quickly
and it leaves this
nice, velvety soft, smooth texture to the undereye area
. It moisturizes well and I don't have to wait very long to let it soak in before I put my makeup on. This works really
good for puffiness
but as far as
correcting
dark undereye circles, it's just okay
.
ALL ABOUT EYES GRADE

: 4.5 out of 5 stars
(If it worked better for dark circles, I'd give it a 5)
L: New packaging/R: Old packaging
What happened Clinique? Didn't their skin care items come in the
pretty patterned box
like their makeup? I haven't bought anything from Clinique in a while so have they changed all their packaging to a
plain boring green
? WHY?!?!
This is what I was talking about earlier. They used to use
pretty green marbled plastic
with their bonus palettes and now it's plain white. What's the problem Clinique? Hmm, must be the
economy
.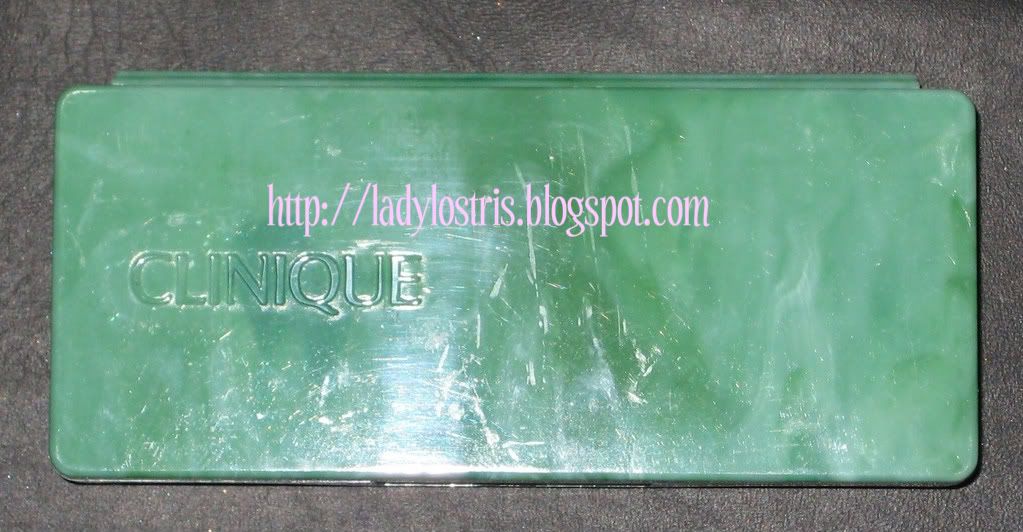 I think this came with a bonus about 2 or 3 years ago. I love
Faded Denim
for a smokey bluish/purple eye. These are nice and creamy while "The Wow Factor" palette is dry and chalky. =(